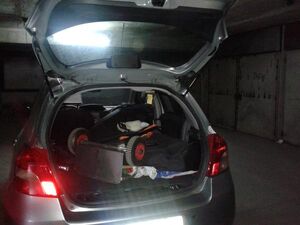 One tricky thing about owning an oversized instrument: it influences harpists' buying decisions when it comes to vehicles. If you're wondering what cars will accommodate a pedal harp (and still have room for you), have a look at the list below. Good news, however–you would be very surprised how small of a car will work! Key features you're looking for:
Hatchback trunk
Front seat flips forward
Don't see your car on here? This list is by no means complete and needs more of your content! Add your car now! Also, if you have a very small car, we would love to see your packing configuration. Post a picture of your harp in the gallery below.
Also, if you have any other sage advice for packing or buying a car in general, feel free to add your thoughts.
List of Pedal Harp Cars
[
]
Make
Model
Year
Harp(s)
Notes
Audi
A6
Salvi
"We have an Audi A6 as a family car. My Salvi just fits in there." –Ingrid Beerda
Chevrolet
Captiva
2007
Salvi
Daphne 47 SE
Chevrolet
Tahoe
Lyon & Healy 23
Easily fits in the back, with the back seats folded down and the 3rd row removed. Plus a dolly, bench, etc.
Chevrolet
Traverse
2009
Venus Diplomat
Has plenty of room to lay the harp in with the harp cart laying flat between the base of the harp and the back door
Chrysler
Pacifica
2019
Lyon & Healy Style 11
The back seats fold down, which left plenty of space for my concert grand pedal harp, bench, dolly, and gig bag. We filled the excess space with blankets and a rolled up yoga mat to prevent the harp from sliding.
Citroën
Grand C4 Picasso
2014
Lyon & Healey 'Chicago'
Dodge
Grand Caravan
2011
Salvi Diana
I have been loading it on the column and have space for driver, two passengers and all my gear. We found maintenance cost to be high on this minivan.
Ford
Escape
2013
Venus Diplomat
Fits the harp but is a little tight, and the driver's seat can't sit all the way back. It may not work for people taller than 5'10".
Ford
Focus (Hatchback)
Ford
Galaxy
"I use a Ford Galaxy to transport my daughter's Pedal harp. The seats fold flat and there's room for her stool too."
GMC
Envoy
"I have a GMC Envoy that fits everything- harp, stand, chair and gig bag. Love it!"
Honda
Odyssey
Lyon & Healy Style 23
Fits the harp easily. The back row folds down flat, and you can fit the harp and all your gig stuff and even have 3 passengers. Wonderful harpmobile.
Honda
Pilot
Lyon & Healy Pedal
"I own a Lyon & Healy semi-grand pedal harp and the Honda Pilot is perfect for transport of a harp when you want to have extra passengers/space. You can either put it flat with the passenger and 2 jump seats on the sides up for a total of 4 people. Or, you can place it up and down in the jump seat row, and carry 6 people! Ample floor and trunk space for bags, seat and stand."
Jeep
Commander
"We have a Jeep Commander and my monster harp and a smaller one will fit in it as well as the harp cart, music stand, Bench , string/ music case and one extra person and maybe a Violin or a flute but not both." –Charles Hooper
Mercedes
Vaneo
"I use Vaneo. Fits 1 concert grand + 3 people (driver + 2), chair and stand."
Mitsubishi
Colt
"My duet partner gets 47 string harp in a Mitsubishi Colt." – Emma Graham (@tillymary) April 8, 2015
Peugeot
508SW
"A Peugeot 508SW works great!" – José Antonio Domené (@joseantdomene) April 8, 2015
Subaru
Outback
2009
Lyon & Healy Style 15; Troubadour
L&H 15 Fits with stand, and dolly; Troubadour fits with passenger in back seat.
Subaru
Forester
2019
Lyon and Healy style 30
L&H 30 fits with dolly and stand and bench. A Salzedo would fit too, I'm pretty sure. While lying flat, the harp base has to be pushed towards the passenger side.
Toyota
Highlander
Lyon & Healy Salzedo
Via [Harps, Etc. blog]
Toyota
Prius V
Lyon & Healy Salzedo
Via [Harps, Etc. blog]
Toyota
RAV-4
Lyon & Healy Salzedo/

Style 23

Via [Harps, Etc. blog]/

The 2017 gasoline Rav4 fits a L&H Style 23 on its side with space for all your gig stuff and a front passenger.

Toyota
Sienna
Lyon & Healy Salzedo
Confirmed via [Harps, Etc. blog]
Toyota
Venza
Lyon & Healy Salzedo
Via [Harps, Etc. blog]
Toyota
Yaris
"Smallest car I've fit a 47string straight soundboard harp is Toyota Yaris. Fits 1harp + 1harpist. Great if you don't want gigantic car." – Nana Sotirova (@nanaharp) April 8, 2015
Volvo
Station Wagon

V50

Lyon & Healy Style 23
"Fits in a Volvo XC70 with room for friend. I've had a 2002 and a 2004. The body style and cargo room has stayed the same for years so I'd expect any XC70 to fit a full concert grand." - Sara Corry March 20, 2016
Citroën
DS5
Camac- Athena
Fits well with harp trolley and carries 3 person in a car!
Toyota
Matrix
Lyon & Healy Style 85
Fits the harp, harp cart, a stool (but probably not a bench), a music stand, but no extra people. The passenger seatbelt buzzer goes off for the first few minutes and then gives up.
Honda
Fit
2016
Lyon & Healy
Tight fit, room for harp and driver and a couple pages of sheet music.
Subaru
Forester
2019
Lyon & Healy 23
The newest redesigned Forester fit my Lyon & Healy like a gem. No need to adjust the front seats at all. (I'm told the 2019 model is slightly longer than the previous generations.) Great vehicle if you want a small-sized SVU. Room for the dolly and music stand too.
Volvo
XC60
Camac trianon47
fits the harp well with harp trolley + bench . Carries 3 person
Honda
Element
2003
Lyon & Healy 23
The Element fits the full-size harp perfectly. The harp must be stowed on its column and pushed in between the front two seats. Because the harp is vertical, there's tons of room on either side for other items. Too bad they stopped making the Element in 2011.
Mazda
CX-5
Lyon & Healy Style 30/23
One harp, gear and harpist, or just harp, driver and passenger, might be a bit tight for driver as you may need to have the seat all the way to the front
Mazda
3 Hatchback
2015
Lyon & Healy Style 30/23/
One harp, gear and harpist, or just harp, driver and passenger, might be a bit tight for driver as you may need to have the seat all the way to the front.

Can also fit Camac Little Big Blue and Aoyama Etude 47

Mercedes Benz
GLC
2017
Camac-Canopee
One harp, one bench, one harpo, wooden music stand, carries 2 person
Lexus
RX300
2018
Salvi-victoria gold
Fit perfectly including harp trolley, and a bench
Toyota
Alphard
2016
Lyon healy style 23-gold and style 11 gold
fits two pedal harps!
Nissan
Rogue (S)
2018
L&H 85E
Tight fit with dolly, stand, and bench. Lies flat on its side, and may be able to squeeze in one additional passenger.
Volkswagen
Golf
2019
Camac Little Big Blue
Fits harp comfortably with gear, great for gigs, will be tight as seat must go all the way forward
Toyota
Wish
2009
Aoyama Monarch
Fit perfectly one concert grand and one lever harp
Jeep
Wrangler
2017
L&H Style 23 & Venus Penti
Fits ONE harp great with plenty of room for dolly, stand, seat, an extra passenger behind the driver and I can squeeze up front in the passenger seat if needed (3 people total). Our 2015 Jeep Wrangler is the same way.
Proton
x70
2021
Lyon Healy style 85CG
Fit perfectly one concert grand
BMW
X7
2021
Lyon & Healy Louis XV special
perfect and spacious
Tesla
Model Y
2021
Lyon & Healy Concert Grand
Very spacious, gear fits nicely in the frunk and the hidden trunk in the back

Driver's seat will not go all the way back but should be fine for most drivers.
Harp Car Photo Gallery
[
]