The harp has built up a reputation for itself to be a rare and luxurious instrument. It always manages to sprinkle itself into mainstream culture and capture the fascination of the right person at the right time.
What surprising venue did you see the harp "pop" up in today?
Harp in Art
[
]
Harp Wiki has built an extensive Pinterest account with boards for each century. Boards range from 4th Millenium BCE to 21st Century. Check out the virtual harp museum today! (Pinterest) Want to help find harps to pin? Follow our harp repository board!
Harp in Movies
[
]
Aristocats, The | 1970 Animation. With the help of a smooth talking tomcat, a family of Parisian felines set to inherit a fortune from their owner try to make it back home after a jealous butler kidnaps them and leaves them in the country. (Photo)
Flowers & Trees | 1932 Animation. Silly Symphony by Walt Disney. It's spring, and the flowers, mushrooms, and trees do their calisthentics. Some trees play a tune, using vines for harp strings and a chorus of robins. A nasty looking hollow tree does battle with a much healthier looking tree for the attentions of a female tree, and starts a fire in the process. A great classic cartoon from Disney! (Video)
Harpist, The | 1999 Movie. An ordinary young man is enthralled by a beautiful harpist, who comes to play in his town. Taken over by her charms he becomes involved in her darker, twisted secrets. (IMDB)
Harp in Food/Beverages
[
]
Guinness | An Irish dry stout that originated in the brewery of Arthur Guinness (1725–1803) at St. James's Gate, Dublin. The harp is featured prominently on their logo.
Harp Lager | An Irish lager created in 1960 by Guinness in its Great Northern Brewery, Dundalk.
Harp in Television
[
]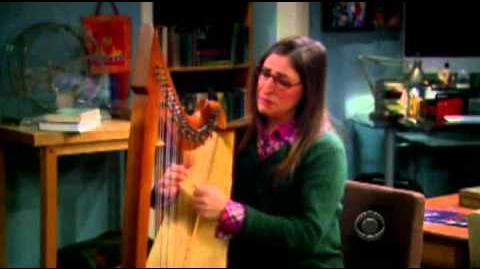 Big Bang Theory | 2007 TV Sitcom. Amy Farrah Fowler (Sheldon's girlfriend), plays the harp.
Bugs Bunny | Bugs Bunny playing his harp and annoys opera singer Giovanni. From the original short "Long-Haired Hare" this scene is selected for its whimsical tune "My Gal is a High Born Lady". Watch Video
The Simpsons | 1989 TV Sitcom. Lisa Simpson is depicted playing the harp in the opening sequence of season 26, episode 1. Watch Video
Harp in Video Games
[
]
This section needs more content! Can you help contribute?
Pop Culture Photo Gallery
[
]