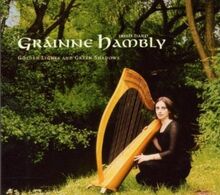 Have a favorite harp CD? Maybe you'd like to promote your own album? Add it to our list below!
One rule for posting your album on this page: please write "Website" in the purchase link column, highlight the word, and add the full link to the word. Be sure to include "http://www" in your link. It will help our tables stay neat. If you'd like to add a bit more specificity, you can use single words like "Amazon", "iTunes", "CDBaby", etc. Thank you!
Visitors, please feel free to let us know if this information is out of date by editing or leaving a comment.
Interested in purchasing a CD? If you are able to, try to buy the CD directly from the artist. If they are self-published, they will receive a bigger percentage of the profit from sale of the CD.
| Artist Name | Album Title | Genre | Preview Link | Purchase Link |
| --- | --- | --- | --- | --- |
| Alison Kinnaird | The Silver String: Music and Imagery of the Scottish Harp | Folk - Wire | All Music | Amazon |
| Ann Heymann / Alison Kinnaird | The Harper's Land: Music for the Irish & Scottish Harps | Folk - Wire | | Amazon |
| Ann Heymann | Cruit go nÓr • Harp of Gold | Folk - Wire | > | CD Baby |
| Grainne Hambly | Golden Lights & Green Shadows | Folk | > | Amazon |
| Siobhán Armstrong | Cláirseach na hÉireann: The Harp of Ireland | Folk - Wire | YouTube | Artist Website |
| | | | | |
| | | | | |
| | | | | |